Projects
Our work focuses on what people love about the places they live and documents specific barriers that prevent full access to and enjoyment of places by certain populations - especially families, children and youth. We are inspired by the Orton Family Foundation's "Heart and Soul" community planning process and the towns in which it works, and we advocate for child- and family-friendly cities, as well as youth participation in community planning processes.
"Cities have the capability of providing something for everybody, only because, and only when, they are created by everybody."
—Jane Jacobs
Community Storybooks
The Community Storybooks team works with towns in transition to capture residents' voices and values in beautiful, full-color books designed to help guide locally responsive planning processes. We have published Community Storybooks for the town of Nederland, Colorado, and for the town of Cortez, Colorado. Click on "Books" above to preview or purchase either Community Storybook, and get in touch through the contact link to discuss creating a Community Storybook for your town or neighborhood.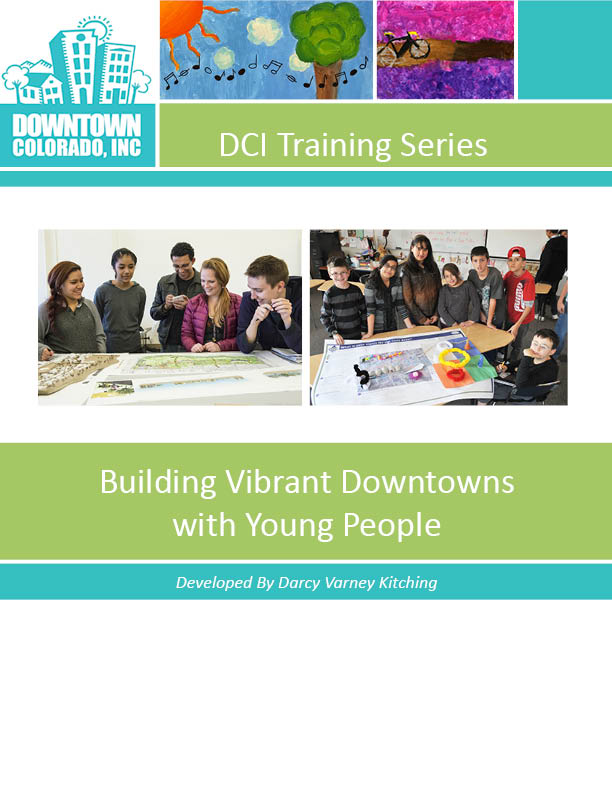 Youth Engagement Workbook for Downtown Colorado, Inc.
In spring 2015, Downtown Colorado, Inc., released Building Vibrant Downtowns with Young People, the organization's first printed training publication, developed by Darcy Kitching. The four-module workbook provides insights into authentic youth engagement gleaned from presenters and participants in the series of workshops Kitching coordinated for DCI in 2013, as well as exercises and activities from leading youth-engagement organizations, findings from current research on youth engagement, and case studies from several Colorado towns that have successfully partnered with young people to improve and activate their downtowns.
The publication - available online here for $20 - emphasizes the idea that youth are not just the future of their hometowns, but citizens now whose voices deserve to be heard. By providing young people with the right training, resources and access to decision-making opportunities, towns can benefit enormously, channeling the passion and commitment of youth into powerful programs and plans that boost everyone's quality of life.
VIDEO: Baby Havens for One Day in Denver
In 2014, Darcy Kitching and Dugg Spalding collaborated to document some challenges of caring for young children in city neighborhoods for One Day in Denver. In this short film, we use the phrase "Baby Havens" to describe publicly accessible places where caregivers of infants and young children can comfortably retreat to breast or bottle feed, change diapers, soothe a crying child, take a brief rest, and refuel. True Baby Havens, as we conceptualize them, are special rooms that are clean, safe, comfortable, and even uplifting for parents and their children - not simply diaper-changing stations in public toilets.
Inspired by Darcy's own experiences as a first-time mom, we documented how new mothers, stay-at-home parents and other caregivers often feel as if they can't leave home or venture very far because they might not be able to meet their child's needs in a safe and dignified way. This film makes the case for more Baby Havens to help new parents participate in public life and enjoy everything city life has to offer. Child-friendly cities are parent- and caregiver-friendly cities.
VIDEO: Baker - Rough Streets for Babies
This video features our One Day in Denver interview with Ellen Yong, mother of 10-month-old Amelia.
VIDEO: Highlands - A Hot Spot for Families
This video features highlights from our One Day in Denver interviews with parents in Highlands.
For parents, where to turn?
See the July 10th blog post to learn about Baby Havens, and get in touch with Darcy to help map and rate Baby Havens in the Denver/Boulder area: darcy@placesmakepeople.com.